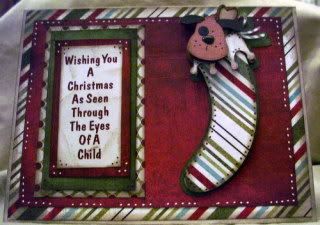 I had a blast making this stocking.... I so love puppies.... and I so remember getting a puppy for Christmas one year.... it just made me so so happy.... It made me want to feel like a child does at Christmas.... Oh I get really close..... but to have that oh wow feeling on Christmas morning... you need to be about 6 again.... hope you like!! ~~Jeannie
CRICUT
Joys of the Season
Stocking cut @ 4 inches...once on shadow 2 times on regular cut and once on layer feature.
Paper Pups
Bone cut @ 2 1/2 inches twice.
Beyond Birthdays
Puppy cut at 1 1/4 inches 3 times on regular and once on layer.
I inked it and doodled it...and computer generated the greeting.